vingoe family website
2007
The picture is of Nanjizal Cove, Trevilley which is to the south of the Lands End at Sennen, Cornwall, in the U.K. Originally a black and white print I have digitally enhanced it using Corel Photo paint.
Welcome to the Vingoe Family web site for 2007. Since the site first went on line in March 2001, we have made contact with many other people with connections to the family and we feel that it is time that we all got together so we are planning a reunion here in Cornwall in 2010 so if you find you are related to the family and would like to join in then please make contact.
We are now starting to redesign the site based on comments made by people in the past and it is our intention to move it all on to one ads free website rather than the 5 different site we have at present. The changes will take time but should not affect your viewing at all.
To all those researchers who have sent us information we say a big thank you and if you have stories, poems pictures indeed anything about the ancestors that you would like to share then please send them to us and we will endeavor to find a place for them on the site.
Whilst this site is for members of extended family to enjoy it is also intended to be a tool to help genealogist, historians, and others carrying out research into the Penwith area of Cornwall in the United Kingdom. Our main aim has been to provide information from an historical viewpoint on the Vingoe family, the places they lived and the occupations they followed. Over the last six years we have constantly been updating the site and now the time has come for a major rebuild in order to make it easier for people to use. Our aim is also to add new branches and information to the family tree which have been provided by people related to the family. Sandra and I wish to thank all those who have passed on information so that it can be shared with others. I am writing this in 2007 and so far we have been able to put links on the site to over 300 surnames and the number is still growing.
Many situations have brought a lump to the throat as we have read the faint written words on some old tattered document. A little comprehension of their struggle to survive is passed down to us; sitting in comfort before a blazing fire and living in more secure times. You can almost feel their presence willing you to discover more so that their story can be told, even though they had been denied the opportunity to contribute to the writing of their own history.
In tracing Sandra's family tree we have collected a lot of information on Sennen and other parishes. But this site is about the people who lived and worked in these parishes, which in the case of Sennen includes the Lands End. The families tended to be multi-skilled: farmer fishermen, with a touch of mining thrown in. If you had visited the far west of Cornwall in the 1600's you would have found sheep and goats by the thousands grazing the land. However, one thing is certain it was a hard life and the frequent harvest failures on land or sea meant that smuggling and free trading was also part of their trade. The family were closely connected by marriage and social connections to those we have found in the lists of both free trader and privateer and in the opposite occupations of Revenue Officer and Coast Guard. They sailed very close to the wind indeed. Many have blank records where they disappear from the scene for years. Many of them paid the ultimate penalty and with others their death go unrecorded. Mystery abounds!
In the nineteenth and twentieth centuries many sort new lives across the seas and some of their history is recorded here. There have been heroes amongst the family members including a George Cross winner and two Lifeboat Coxswains, there are those who paid the supreme sacrifice in time of war and others who lost their lives in shipwrecks. All this and more you will find within these pages so please browse the site and we hope you enjoy your visit.
Please keep coming back as we will be updating the site all the time. You will find other Web Sites with a Cornish or Genealogy interest on the Links Page and we will endeavor to provide a number of resources here to help those of you who are doing research connected with Cornwall whilst at the same time hoping that you will share your knowledge with others through the site. We also welcome constructive comment and suggestions on how we can improve its content.
We would welcome any info on the remaining relatives that you may know of..........
We try to collect the female lines as well as in the early days their offspring often married back into the various lines. Cousins in reality as well as Law were often joined in complicated patterns of kinship. So if you find a connection and want further information then please get in touch as we cannot put all the information we hold on to the web.
Below are just some of the Vingoe lines which we have researched. We will be adding more in the future so if you cannot find your particular line then contact us giving as much information as possible and we will try to answer your query. Also if you have information you wish to add or have any corrections to the data on the site then let us know.
It is important that all data on this site is checked with the original source that we quote. We are only human and mistakes can be made even though we do our best not to make them.
George & Sandra Pritchard (nee Vingoe).
0-0-0-0-0-0-0-0-0-0-0
Line of John & Joan VINGOE
of
Sennen, Cornwall
The Common Ancestors of all Lines so far.
I give the lines down from John & Joan Vingoe's sons, John and William VINGOE, who were known to have produced children. In John's will of 1656 their 5 sons are mentioned; William, John, Jenkyn, Martin & Peter. John VINGOE had decided what would happened to his property. On the death of his widow, Joan, it would go to their eldest son, William VINGOE.
The will of Edmund Nicholas dated 1662 names Joan as one of his three married daughters; Joan Vingoe, Jane Bottrell and Charity Harry]
In the will of Joan Vingoe, widow, in 1685, only 4 grandchildren are referred to by name.. Her grandson WILLIAM VINGOE JNR., who stood to inherit under his own father's will, did not receive any bequest from Joan and was therefore allowed to sign her Will as a witness. He also appears to have written the name of Joan Vingoe against her mark.
The Will of Joan Vingoe dated 1684/5
The last Will and Testament of Jono Vingo Widow of John Vingo.

Proved at Sennen 20th July 1685. Will dated 28th February 1684,5.

In the name of god amen: Acording to the compullation of the Church of England

I Jone: Vingo of the parish of Sennen widow in the County of Cornwall being all this time sick in body but of sound perfect memory praise be given to you our maker this my last will and testtomen in manor and form followorth.

I do give and bequeath my soule unto almighty god my maker and my body to a christian

burial.

I give and bequeath unto Petter Vingo my son my little pan and my little croake (crock)and

my old cupboard.

I give and bequeath unto my son Jenkin Vingo my best board (table) and my cupboard.

I give and bequeath unto my son Jenkin Vingo one cow called by the name of "Bloganian".

I give and bequeath unto my son Petter Vingo one heiffer of two years.

I give and bequeath unto my grandchildren two pounds cash money and to my grandson

John Vingo the son of John Vingo one silver spoon.

I give and bequeath unto Henery my grandson the son of William Vingo one ewe.

I give and bequeath onto Richard Bottrell the older one ewe.

I give and bequeath unto Gzard Harry six pence.

I give and bequeath unto Polly Hicks the daughter of Isreal Hicks of the Island of Scilly two shillings and six pence.

I give and bequeath unto the parish of Ludgvan two pounds to the poor.

I give unto the poor of Sennen parish two pounds.

I give unto my sister Jane Bottrell six pounds.

I give unto Richard Bottrell the older six pounds.

I give unto Jane the daughter of John Vingo my son my best chest.

All the rest of my goods movable and unmovable do I bequeath and give toWilliam Vingo

and John Vingo my sons whom I do make and appoint my true and lawful executors for to see that all this my Will may be fulfilled wittness my hand and seale the day and year find

above written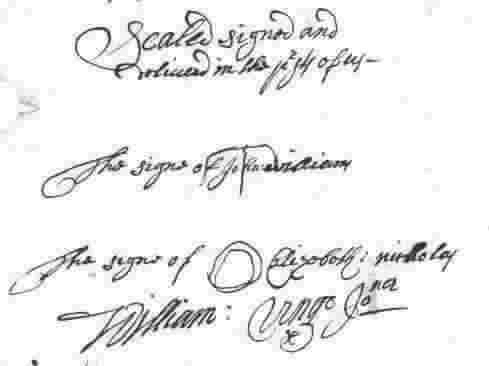 Jono X Vingo (seal

The sign of John Williams

The sign of Elizabeth Nicholls

Signed William Vingo Jnr.

Ref. DSB 441/1 Cornwall County Records Office.
William's other son, HENRY VINGOE is left a small bequest, as are JOHN VINGOE and JANE VINGOE, children of her other son John VINGOE. There are other grandchildren mentioned but they are not named. It does not help that records for Sennen only start in 1695.
There is some doubt as to whether the William VINGOE [circa 1693], is a son of Joan's grandson William and his wife Agnes.
There also is some doubt as to whether the William that married Ann ? c1721, with children John, Liz, Ann and Joan [1722-1730], was the same as he that later married Mary Daniel of Sancreed in 1730 in Sennen, with children William, Henry & Richard [1730-36.] The children's birth dates would appear to be contiguous with no repetitions in their names.
JOHN VINGOE born 1722 to William and Ann inherits the land around Trevescan, Sennen and WILLIAM VINGOE c 1693 inherits the land around Trevilley, Sennen. William and his two eldest sons, William & Henry, leave no record of their death or burial. His youngest son, Richard b 1736, eventually inherits Trevilley and parts of Sennen Churchtown, namely the First and Last Inn, where he had the Dower House built around circa 1748, according to old
The Dower house, Sennen Church Town.
deeds. From a Hutchens family Will proved in 1747 it would appear that William Vingoe [c1693] was still alive then. It mentioned a partnership in fishing boats etc., so perhaps he and his two eldest sons perished at sea around 1747/48, leaving the youngest son Richard to marry and continue the line.
There are no further wills in this Sennen family line to help out and its only by chasing land holdings that you can make sense of anything.
For the record, I have split the various branches into the separate trees after the grandchildren appear on John and Joan Vingoe's Tree.
Generation Colour Code
........1 2 3 .........4 ........5 ........6 .........7. ..........8 .........9 ........10 .........11 .........12 .........13
To go back through the generations on a tree, click on the colour bar next to the name and you will be taken back to the father of that person and so on.
........1. John Vingoe: c 1580 d: 1656 Sennen Cornwall (Click)
+ [poss. 2nd or 3rd wife?] Joan NicholAs. b c 1620 - d 1685
[ Joan's Will written February 28,1683/84]
2 Peter VINGOE ?- bur 1707 Sennen
2 Jenkyn VINGOE b c 1640 - d. 1705 Quaker?
..................... + Mary Reed b c 1643 - 1708
...................... Married 1665 Quaker ?
2 John VINGOE b c 1640 - buried 1709 Sennen
..................... M c 1670 ?
.................... + Edwin Hutchins of Paul: Sennen .
..........................married 30 Nov 1700 Sennen
3 John VINGOE b c1673
...........................+ c 1693 ?
.......................4 John VINGOE c1695 - 1760 buried Sennen. [Will 1760 Paul]
..............................+ Margaret REED ? - 1850 Sennen
................................married 1729 Sennen
Pol-Peden Penwith
This tree includes the line of William Bottrel the Cornish Folklorist who was known as OLD CELT.
NAMES IN THIS TREE
- Bottrell - Dennis - Hodder - Hutchens - Mann - Pentreath - Reed - Stevens - Willis -
FOR JOHN & MARGARET's TREE CLICK HERE
...........2 William VINGOE c 1635 - ?
....................+ WIFE ? [possibly Grace ? widow buried 1727 Sennen]
married circa 1660
...............3 William VINGOE c 1663 - 1730 Sennen [Will
..........................+ Agnes ? - buried 1747 Sennen.
...........................married c 1694 Sennen
4. William VINGOE c1694 Sennen - died c1748
.............................+ 1] Ann ?
............................. married circa 1721
The Lands End
Bruce - Bottrell - Badcock - Boase - Barnes - Bennett - Bolitho - Courtney - Chellew - Carnpezack - Cardel - Chellew - Cardew - Dennis - Glasson - Guy - Hutchins - Harvey - Harry - Humphreys - Humphry - Hicks - Hollow - Head - Jacka - James - Johns - Maddran - Mann - Mitchell - McCarthy - Mathews - Nicholls - Oliver - Pearce - Permewan - Pentreath - Pascoe - Paul - Proves - Reed - Roiffignac - Rawling - Robinson - Schollar - Stewart - Thomas - Trevaskis - Tregarthen - Tonkin - Vingoe - Williams - White -
FOR WILLIAM & ANN Vingoe TREE click HERE
4. William VINGOE c 1694 Sennen- died c 1748
............................+ 2] Mary DANIEL [b1705 Sancreed - d 1794 Sennen]
...............................Married 1730 Sennen.
........................+ Joseph HEAD 1724 Sennen..
.........................5 Joseph HEAD 1725 Sennen
.........................5 Abraham HEAD 1726
.........................5 Ann HEAD 1728
.........................5 Eliz HEAD 1732
..........................+ John ADDECOTE
.......................... Married 1735 St Buryan.
.......................5 Eliz ADDECOTE 30 April 1739: St Bur.
5 Rebecca ADDECOTE: 28 Dec 1741 St Bur.
5 Phillis ADDECOTE: 24 Nov 1744 St Bur.
.......................5 Mary ADDECOTE 17 May 1746 St Bur.
3 Henry VINGOE 1665 - 1725
....................+ Eleanor ? b ? - bur 1737
.....................marriage c 1687
St Just in Penwith
NAMES IN THIS BRANCH
Arnold - Armstrong - Beames - Brierly - Bridgeman - Blight - Branwell - Blunsum - Bottrell - Carne - Courtney - Clemence - Champen - Chappel - Casley - Clements - Cardew - Crocker - Daniell - Eva - Edwards - Ellis - Eggleston - Fleming - Fry - Foss - Friend - George - Goodman - Grenfell - Harvey - Honeychurch - Hill - Hocking - Holla - Hancock - Jenkin - Luke - Lawry - Lynch - Mills - McKnight - Mitchell - Maddern - Murley - Merryfield - Mayne - Nicholls - Nicholas - Noy - Nankervis - Oats - Pears - Polglaze - Perrow - Pascoe - Premuen - Robbins - Russell - Rowe - Spice - Semmens - Spencer - Santo - Trezise - Thomas - Trembath - Tregear - Taylor - Tremewan - Trudgen - Uren - Vingoe - Watson - White - Wall - Williams - Woolcock - Warren.
Click Here For HENRY & ELEANOR'S TREE
0-0-0-0-0-0
Splitting into the NEWLYN LINE of
NAMES IN THIS LINE
Agerton - Badcock - Bailey - Banks - Barnes - Berryman - Blewett - Breach - Bramble - Branson - Brown - Barton - Bell - Bagley - Cann - Cleversley - Clift - Coulter - Coupland - Cottam - Cooper - Davies - Dawson - Dennis - Dine - Draper - Dorman - Easton - Ellis - Elphick - Elliot - Gilbert - Gregg - Gribble - Gordon - Gould - Garret - Harvey - Harris - Haylock - Haydon - Hitchens - Hughes - Humphrys - Humphreys - James - Jeffrey - Jeffries - Jelbard - Jenkins - Jordon - Jones - Jenkenson - Johns - Kettless - Lake - Mann - Mark - Mathews - McKenzie - Mewse - McDonald - Mott - New - Napier - Nelson - Nicholas - Nichols - North - Nieland - Oates - Oleson - Payne - Pearce - Perry - Pritchard - Pope - Pollard - Pender - Rawlings - Richards - Reed - Rodda - Roberts - Rowe - Reynolds - Rutherford - Rawes - Sampson - Sandercock - Shore - Sims - Smith - Spencer - Strick - Spall - Taylor -Taskes - Thomas - Tregurtha - Trevelyan - Treeve. - Thevenin - Thrower - Vingoe - Viner - Weeks -Wills - Willis - Williams - Wooten - Wright - Ward - Wallis
..............3 Richard VINGOE b c 1675
....................+ Sarah Paul
.....................married 1701 St Levan
Seed Drill invented by William Henry VINGOE in 1847
A tree which includes Farmers, Inventors, Musicians, Artists and Builders
NAMES ON THIS TREE
Argolls - Arthur - Aubrey - Bosence - Buspidnick - Bolitho - Bennetts - Boase - Bradfoot - Cardew - Christophers Curnow - Caldwell - Courtney - Cotton - Dennis - Davey - Durban - Daniell -Eddy - Eady - Elsworth - Ellis - Freeman - Fry - Guy - Goodman - George - Hutchins - Hicks - Humphreys - Hosking - Hall - Harding - Jenkin - James - Johns - John - Kelynack - Keogh - Kenny - Lanyon - Lowry - Lean - Mitchell - Mathews - Mann - Nicholls - Nicholas - Oats - Paul - Phillips - Quance - Rodda - Reseigh - Ruberry - Roberts - Stevens - Stone - Smith - Seymoor - Thomas - Tonkin - Trahair - Trewavas - Victor - White - Warren - Williams - Wallis - Woods - Weymouth
For RICHARD & SARAH'S Tree Go Here
3 Julian VINGOE circa 1677 - died 1703 St Just
....................+ John HICKS
.....................married 1702 St Just
4 John HICKS b1703- died1703
....................+ Mary PROVES
.....................married 2 Dec 1711 Sennen.
4 Jane VINGOE 19 Oct 1712 Sennen
......................+ William HILL: 14 Jan 1744 Sennen [off St Hilary]
......................5 Jennyfair HILL 15 Oct 1746: Saint Hilary
......................5 Mary HILL 02 Nov 1748: Saint Hilary
......................5 Eliz HILL 26 May 1750: Saint Hilary
......................5 William HILL 21 Jan 1752: Saint Hilary
4 Mary VINGOE 27 Dec 1714 Sennen
4 Eliz VINGOE 5 Jul 1721 Sennen
4 Eleanor VINGOE 2 Jun 1725 Sennen
..................+ John GEORGE 13 Jun 1761 Sennen
...................No Issued found
4 Israel VINGOE 31 Dec 1730 Sennen:
No Marriage found No burial found.
End of this line
3 Jane VINGOE c 1685- d 22 Mar 1749
.................+ Mathew WILLIAMS - d 6 Feb 1748
.................married Oct 1711: Sennen
3 Grace VINGOE c 1690 - ?
................+ Simon HEAD ? - died 1720
..................married 1712 Sennen
4 Eleanor HEAD b 1714
4 John HEAD 24 Jun 1716
4 Simon HEAD b 1720

Poem "Sandra's Family Tree"

Vingoe Occupations

Sennen Records

William Bottrell

Pirate

Pirate 2

Spanish Raid 1595

Links Page
We joined the On Line Parish Clerk Project and are willing to help people who are researching their family history with regards to Sennen, Gwennap or Redruth Parishes.
Sandra and George Pritchard are the authors of original work on this site. They give permission to copy and use this information on the following conditions.
1 It will not be used for profit.
2. The source will be credited.

Copyright © 2001/ 06 All rights reserved.
Revised: January 08, 2007 .