Sennen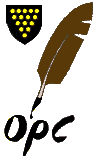 Sandra Pritchard
ON LINE PARISH CLERK
URL. http://members.tripod.co.uk/sennen1/
------------------------------------------------------------------------------------------------------------
Having volunteeres to take on the role of the OPC for Sennen I thought that I should put together a web site to help those who are doing research into family members from the parish. That site is now on line and you can go to it by clicking on the above URL. If you need other information you can contact me at:
george@penhalvean.freeserve.co.uk
Below is a message from Dave Strick The co-ordinator of the OPC Project which explains what it is all about. At the end of the message is a list of all the OPC,s so far recruited and how to contact theM.
-----------------------------------
MESSAGE FROM DAVE STRICT.
We are now six months into the OPC Project and it's time for another update with a bit of repetition for some well versed. First, I'll explain what the project is all about just to remind everyone.

At the end of 2000 whilst sitting over a quiet lunchtime pint at our favourite watering hole in St Stephen in Brannel, Michael McCormick, Paul Brewer and I discussed ways and means of making family history information more readily available to those without the advantage we have of living here in Cornwall. We agreed that what was needed was a specialist for each parish who would become a dedicated data coordinator for that parish. An On Line Parish Clerk seemed the right sort of title and this has met with overall approval.
These OPCs, we visualised, would provide a look-up facility for all of the data they had collected. However, the unique difference with this project over the usual look-up facility would be that the OPCs could provide that extra bit of knowledge and interest enabling some flesh to be put on the bones for people building their family histories. Let's face it, bare statistics aren't going to cut the mustard in the future when our descendents coming across our histories. They will want to know about the social environment in which their ancestors lived and to be able to see what the place looked like.

I agreed to coordinate the gathering of volunteers and we decided to start with the Roots Gen List. In January I asked for volunteers with a special interest in family and local history and with a particular, favourite parish. These volunteers were asked to collect a database of parish register records together with local history for their chosen village. I later extended this to encompass any other data including census records, parish chest material, photos and pictures. In fact, anything likely to be of use to family historians with an interest in that parish.

I asked that the data be collected by the OPCs either through their own transcription efforts or by receiving and entering data inputs from others interested in the project but who perhaps were less well equipped to take on the full role of an OPC. The register material might, in the future, be offered to the FreeReg project and of course, Michael McCormick's interests in the FreeCens project would also be assisted by those volunteers who also wished to take part in his project too.

One important rule was to keep the task simple and fun for all, no exotic s/w packages or entry techniques, no time scales set and we would try hard to avoid treading on too many with commercial interests, though our fundamental purpose has been to offer the service free. Additionally, it is important not to get into copyright issues and so care has to be taken here.

We have 'advertised' the project since late in January through List Mum, Yvonne and our old pal Rick Parsons both of whom have kindly included the latest OPC list and further info on their websites. Additionally, others have provided links including the county page of GENUKI.

The response has been spectacular! I have been inundated with requests for more information and volunteers started to come in fast. Some volunteers have opted to create their own websites and place the data here others have stuck to the original concept and provide look-ups. Great interest has been shown by other counties and several including our next door neighbours in Devon are also running the project now. As of today we in Cornwall have 58 volunteers covering about 90 parishes and these are listed below. None have complained of overwork and all still enthuse over the work.

So there you are, a simple idea to provide help to one and all in a practical way whilst at the same time enabling volunteers to gather more information on their favourite parish. I think it is of particular value to those on far shores as I remember how frustrated I became when abroad. I hope you will all agree that this is a worthwhile project worthy of your support for the greater good. Worth considering helping do you think? If you do, I'm co-ordinating the list just let me know your parish interest and whether you are willing to be an OPC for that parish. Contact me at the address below and I will be very happy to help you get started.

Don't forget, if you don't feel able to become able to be an OPC you can still offer help by providing the appropriate support to your favourite parish's OPC. Let them have those transcriptions you might have made, old photos you may have found, wills you may have collected, parish chest info and local history. It's your project, support it and make the difference!

The latest list of OPCs is shown below and for up to date listings between these updates please see List Mom's website and that of Rick Parsons.

Kind regards and good hunting,

David Stick

St Austell Cornwall

david@dstick.freeserve.co.uk

LIST OF OPCs
Kathy Bretthauer - Lanlivery - brettlh@gte.net
Roger Shirley - Gwinear, Mawgan in Meneage - esanti@cairns.net.au
Linda Nelson - Kilkhampton - nelsons@ntl.sympatico.ca
Diane Donohue - St Keverne - Donohue@cwcom.net
Dean Newman - Egloskerry, St Thomas, St Stephen and St Mary Magdelene- kenyon@znet.net.au
David Trounce - Veryon - dtrounce@ican.net
Fran Stewart - Morvah - fran_stewart@optusnet.com.au
Rick Parsons - St Ives - Towednack - rick.parsons@bigfoot.com
Paul Brewer - Creed - pbrewer@kernow.net
Michael McCormick - Newlyn East - michael@roseterrace.demon.co.uk
Sue Boyland - St Enoder - jboyland@wn.com.au
Alan Trevarthen - Crowan, Camborne - Trevarthen@csi.com
Kay Hinnrichsen - St Blazey - kayhin@southwest.com.au
Phil Hollywood - Redruth - bub@loxinfo.co.th
Rita Bone Kopp - St Stephen in Brannel - dekrak@webtv.net
Malcolm Rule - Falmouth - ruler@netspeed.com.au
George Pritchard - Sennan - george@penhalvean.freeserve.co.uk
Pat Banks - St Levan - tencreek@iinet.net.au
Sharon Symons - Philleigh, Lamorran - shaz.symons@btinternet.com
Susan Old - St Merryn, St Ervan, St Eval and St Mawgan - susanold@freeuk.com
Pat McClay - Wendron, St Ewe - PatMMcClay@aol.com
Harry Turner - Treneglos, Wabstow - DrtyHrry3@email.msn.com
Doug Henwood - Little Petherick, St Issey, St Wenn - douglas@henwood2000.freeserve.co.uk
Di Gibbs - Lezant - digibbs@btinternet.com
Hillary - Budock - Hilton@watsonh31.fsnet.co.uk
David Stick - Tywardreath - david@dstick.freeserve.co.uk
Corinne Thompson - St Buryan - visualarts@ozemail.com.au
Darcel - St Erth - darnico@home.com
Margaret Owens - St Just in Penwith, Pendeen - owens@alphalink.com.au
Arlene Amodei - St Hilary - Ludgvan - amodei@psln.com
Dee - Luxulyan, Lanivet - dee@appleonline.net
Julie Wheeler - Phillack - Hayle - jwheeler@shoal.net.au
Fran Pillsbury - St Day - franp@best.com
Clive Pinch - Perranzabuloe - clive.pinch@btinternet.com
Gwynneth - North Hill - gandj@hotkey.net.au
Bob Hambly - Egloshayle, St Mabyn, St Tudy - rhambly@pei.eastlink.ca
Karen Start - North Petherwin - khs@telus.net
Al Kline - Perranuthnoe - Akline@city.kamloops.bc.ca
John Tarling - St Mewan - dancefolk.john_t@virgin.net
Carol Hughes - Ruan Lanihorne - hughes.ruan@lineone.net
Kathie Weigel - Gwithian - azazella@primenet.com
Peter Smith - Quethiock - rangismith@paradise.net.nz
Mary Kneebone - Breage - fmkernebone1@optushome.com.au
Ann Tumser - Lostwithiel - Atumser@bigfoot.com
Lorna Leadbetter - Probus - leadbetter@lineone.net
Patricia Hard - Madron - hardlines@burcom.com.au
Leanne Geake - Penzance - leon_leanne@desiredimages.d2p.com.au
Pamela Campbell - Padstow - pamela.campbell@virgin.net
Julie Mosman - St Austell - jwmos99@msn.com
Mark Lashof - St Ive - trumpet@iximd.com
Kay Williams - Sithney - williams@terrigal.net.au
Chris Uphill - Uny Lelant - uphill@multiline.com.au
John Carkeet - St Martin in Meneage - cricket@lsol.net
Chris Hutton - St Winnow - chrishutton@freedomit.freeserve.co.uk
Sarah Murtagh - Gwennap - murtagh.family@sympatico.ca
Mark Winnacott - St Gennys - Mark_Winnacott@excite.com**
Alan Rowland - Morwenstow - alan_rowland@morwenstow.freeserve.co.uk**
Claire Sinclair Paterson - Cubert - cleopat@clear.net.nz**

Questions or problems regarding this web site should be directed to george@penhalvean.freeserve.co.uk
Last modified: Sunday October 22, 2006 .