The Quaker Line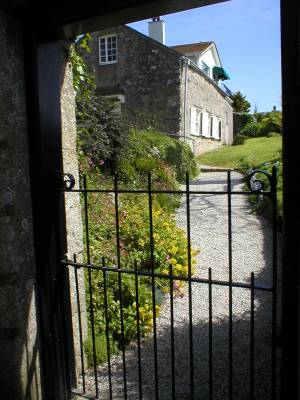 Friends Meeting House Marazion
I know that there were two Vingoe Quakers mentioned in "The Sufferings"- Digory from Helston and Jenkyn from Sennen. According to the will of Digory 1703 he had two daughters; Jane who had married a Samuel Stevens and Sarah who married into the old Cornish family of Busistow. For a fuller version of the Sennen Quakers story go here.
Digory Vingoe was buried at the Friends burial ground in Marazion. Jenkyn married a Mary Reed in 1665 and had eleven children. He was buried in the Friends burial ground at Brea.1705 The children of this marriage would seem to have left the Lands End area very early, choosing St Ives and Falmouth to live. Falmouth being a Quaker stronghold would seem a natural choice if they remained Quakers but St. Ives was very hostile territory. Jenkyn's son, Jenkyn, married Beatrice Carlyon 1699 at St. Ives and leased the area of land above Porthminster beach from Hugh Pawly, a local gent. There he ran a rope-works but disaster struck in 1721 when he lost goods to the value of " upwards of a thousand pounds" according to the Borough Records of St. Ives. He died and was buried at St. Ives in 1727. Ten years later in 1737 his widow Beatrice joined him.
Their daughters remained in the area and married into the local families of Perkin and Ninnes. The first born son of Jenkyn and Beatrice, Richard, I cannot trace and the second, Jenkin, moved to Falmouth and married Eliz Remphree in 1726. He was a mariner I think. There is an Eliz Vingoe, widow, marrying a Charles Jenkin at Falmouth in 1748. I believe her to be Jenkin's widow, Eliz Remphree. As his burial is absent from Falmouth records I presume that we have yet another Vingoe lost to the sea. In 1760 their son, another Jenkin, married Frances Dennis, whose family were also described as mariners. Disaster seems to have struck again with Jenkin lost at sea shortly after the wedding and leaving no heirs. There was a will dated 1761 which I have not found yet. It may have been lost in the bombing of the Records Office at Exeter in WW2. Falmouth Wills were proved at Exeter apparently.
Frances Vingoe, widow, married again in 1764 to a Samuel Terrill who ran a tin smelter in Redruth. Although Jenkin [1701] had two brothers Richard and John I can find nothing further in the records for them. It would appear that Jenkin[1732] was the last of that male line.