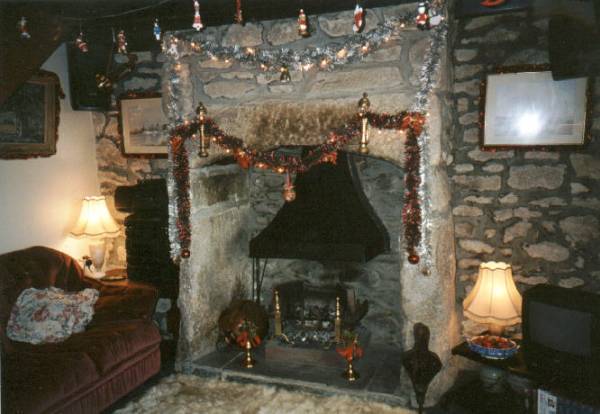 Introduction
Welcome to our fireside in Penhalvean, Cornwall, and the Vingoe Family web page. Since the site first went on line in March 2001, we have made contact with many other people with connections to the family. Whilst this site is for everyone to enjoy it is also intended to be a tool to help genealogist, historians, and others carrying out research into the Penwith area of Cornwall in the United Kingdom. Our main aim has been to provide information from an historical viewpoint on the Vingoe family, the places where they lived and the occupations they followed. Over the last two years we have constantly been updating the site and now the time has come to add new branches and information to the family tree which have been provided by people related to the family of Vingoe. Sandra and I wish to thank all those who have passed on information so that it can be shared with others. I am writing this in May 2003 and so far we have been able to put links on the site to over 200 names and that is just a start.
We are also trying to add other information to those of you researching family history particularly in West Cornwall. This will take the form of Parish and other records plus stories about how our ancestors lived and worked.
Many situations have brought a lump to the throat as we have read the faint written words on some old tattered document. A little comprehension of their struggle to survive is passed down to us; sitting in comfort before a blazing fire and living in more secure times. You can almost feel their presence willing you to discover more so that their story can be told, even though they had been denied the opportunity to contribute to the writing of their own history.
In tracing Sandra's family tree we have collected a lot of information on Sennen and other parishes. But this site is about the people who lived and worked in these parishes, which in the case of Sennen includes the Lands End. The families tended to be multi-skilled: farmer fishermen, with a touch of mining thrown in. If you had visited the far west of Cornwall in the 1600's you would have found sheep and goats by the thousands grazing the land. However, one thing is certain it was a hard life and the frequent harvest failures on land or sea meant that smuggling and freetrading was also part of their trade. The family were closely connected by marriage and social connections to those we have found in the lists of both free trader and privateer and in the opposite occupations of Revenue Officer and Coast Guard. They sailed very close to the wind indeed. Many have blank records where they disappear from the scene for years. Many of them paid the ultimate penalty and with others their death go unrecorded. Mystery abounds!
All this and more you will find within these pages so please browse the site and we hope you enjoy your visit and please keep coming back as we will be updating the site all the time. You will find other Web Sites with a Cornish or Genealogy interest on the Links Page and we will endeavor to provide a number of resources here to help those of you who are doing research connected with Cornwall whilst at the same time hoping that you will share your knowledge with others through the site. We also welcome constructive comment and suggestions on how we can improve its content.
We joined the On Line Parish Clerk Project and are willing to help people who are researching their family history with regards to Sennen Parish. We can be contacted by clicking here.
We would welcome any info on the remaining relatives that you may know of..........
We try to collect the female lines as well as in the early days their offspring often married back into the various lines. Cousins in reality as well as Law were often joined in complicated patterns of kinship. So if you find a connection and want further information then please get in touch as we cannot put all the information we hold on to the web.
George & Sandra Pritchard (nee Vingoe).